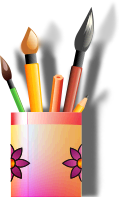 Coloring Pages
Web Coloring Pages is dedicated to kids. Kids can explore the artist in them by coloring variety of coloring pages available on the website such as cartoon coloring pages, Disney coloring pages and many other coloring pages of princess, animals, birds, vegetables, homes and much more.
Coloring pages are available online or else take a print of any page and color it with your favorite crayons, glitters and color pencils. Explore different coloring tools available online such as glitters coloring, gradient coloring, crayon coloring, paining and much more. Use different stamps and stickers on your pictures.
Enjoy and fun coloring!!